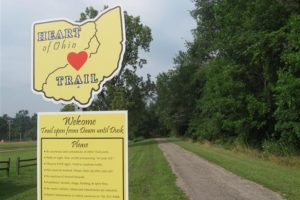 The Heart of Ohio Trail begins at the C. A. & C. Depot 501 S. Main St. Mount Vernon 43050 and runs to the Village of Centerburg.  The newest section of the Heart of Ohio Trail (Huffman Rd. to N. Clayton St.) was completed in October 2016.  This section of trail has a 182′ pre-fabricated bridge that spans U.S. 36/S. R. 3.,  where once a railroad bridge was located at Lytle Rd.  This phase of trail development is made possible through an Ohio Department of Transportation grant, with required local match from the Knox County Park District levy.  
The Heart of Ohio Trail offers close to 20 miles of walking, in-line skating and biking. The trail is maintained by the Heart of Ohio Trail group, a 501c3 volunteer board and organization. The trail surface is comprised of smooth, high-grade asphalt. The picturesque, high-quality Dry Creek stream cascades along several portions of the trail, offering trail participants soothing sounds.  There are 19 bridges on the Heart of Ohio Trail as it crosses over the Dry Creek which switches back and forth and meanders on its way to the Kokosing State Scenic River . To obtain a trail map click on the following link, http://heartofohiotrail.org/2014a.pdf
Parking access is found at;
Memorial Park in Centerburg, 59 Johnsville Rd. Centerburg 43011
Mount Liberty, 7180 Simmons Church Road Centerburg 43011
7760 Thayer Rd. Mount Vernon 43050
C. A. and C. Depot, 501 S. Main St. Mount Vernon 43050
Huffman Rd. to N. Clayton Street, parking at 2750 Huffman Rd. Centerburg 43011
The Heart of Ohio Pedestrian Trial bridge was constructed in the fall of 2016. This was quite a project as two cranes were used to place three sixty foot long bridge spans on the highway where workers then bolted and riveted the pieces into place. The bridge is located on the trail at the US 36/ S.R. #3 and Lytle Road access.