Geocaching is a outdoor, high tech treasure hunt using a GPS device and online clues to guide participants to hidden containers known as caches. The caches are typically hid in fun to find locations that you may not otherwise explore. The water-proof containers include a log book to sign and trinkets for trading.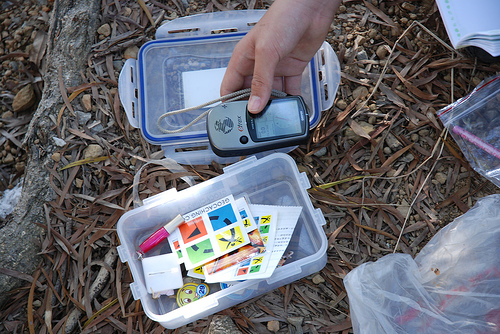 There are over a million geocaches many of which are found in more than 100 countries across the globe.
Last year we designed our first GeoTrail which was very successful. The trail consisted of a cache in each of our county parks and upon logging and completion of our virtual journey, cachers received a Geotoken for their success. Currently we are in the design stages of initiating our 2020 GeoTrail. The 2020 trail will include 3-4 geocaches on each of our county multi-use trails which include the Heart of Ohio, Kokosing Gap and Mohican Valley Trails comprised of the Greater Ohio to Erie Trail. On the trail, visitors will enjoy picturesque views of the county. Cachers are encouraged to learn some historical facts through an optional virtual component. By completing the virtual tour, cachers were be rewarded with our 2020 Geocoin.
In order to engage in geocaching you must go to www.geocaching.com and create a free account. You will establish a user ID and you will use this information as you locate your geocaches and complete each log. GPS coordinates are provided for each cache and that is the method you will use to locate the treasures. There are over 90 caches in Knox County. To view one of our virtual cache listings from last year click here
This year we are excited to share our "Friends of the Trail" launch as local businesses are offering "cache" discounts at their place of business exclusively for Geocachers to redeem. These businesses include, Round Hill Dairy, Weavers Farm and Furniture, Half Baked, The Joint, Dave's Cosmic Subs, Stein Brewing Company, Taigan Winery, Village Market, 1834 Midway Tavern, Everlasting Cup, Danville Outdoors, and Blonde Robin. Check back as we will launch our trail in June 2020.